John Bevington awarded EERI Housner Fellowship
07 Aug 2014
ImageCat is proud to announce that its UK Director, Dr. John Bevington, has been selected by the Earthquake Engineering Research Institute (EERI) as a member of the 2014-16 class of Housner Fellows.
John is one of eight Fellows selected by the EERI Housner Fellows Management Committee for the 2014-16 class following a competitive selection process. In July, the new Fellows congregated in Girdwood, Alaska and completed a weeklong leadership training program prior to the 10NCEE and EERI Annual Meeting in Anchorage. During the two years of active participation in the program, the class will define and develop a group project and contribute service to EERI, with the support of mentors. The 2014-16 class project will investigate building code enforcement practices in developing countries.
The strategic objective of the Housner Fellow program is to recognize and equip promising and motivated young to mid-career professionals with the confidence, skills and sense of responsibility needed to become lifelong leaders and advocates of earthquake risk reduction.
EERI began this leadership training program with a bequest to EERI from Prof. George Housner, to "advance the objectives of EERI". Professor Housner was an educator, a leader of the earthquake engineering profession and an advisor on public policy. He was a founding member of EERI and served as president for 11 years. He was a founder of the International Association for Earthquake Engineering and sought to increase understanding of earthquakes, to develop engineers of the highest caliber and to use the knowledge to improve earthquake safety worldwide.
The program is in its second round of Fellows, with the 2012-14 class "graduating" during the 10NCEE in July. Additional support for the program has been provided by the Federal Emergency Management Agency (FEMA) and the Global Facility for Disaster Reduction and Recovery (GFDRR) of the World Bank.
John leads ImageCat's UK office. He is a geospatial technologist specializing in using remote sensing to understand disaster risk. He is a member of the Earthquake Engineering Research Institute, the Earthquake Engineering Field Investigation Team and the Remote Sensing and Photogrammetry Society.
Click here for additional information on the Housner Fellows Program.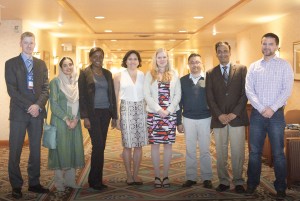 The 2014-16 class of EERI Housner Fellows (from l-r: John Bevington, ImageCat Ltd., UK; Ghazala Naeem, DRR Consultant, Pakistan; Garmalia Mentor-William, Emergency and Disaster Management Specialist, Haiti; Ayse Hortascu, Applied Technology Council, CA, USA; Katherine Thibert, Ausenco, Vancouver, Canada; Surya-Narayan Shrestha, NSET, Nepal; Kishor Jaiswal, Synergetics Inc./ U.S. Geological Survey, CO, USA; Forrest Lanning, Aurecon Ltd., New Zealand). Photo courtesy of the Earthquake Engineering Research Institute.