ImageCat contributes to GFDRR report on innovations for risk reduction
11 Mar 2017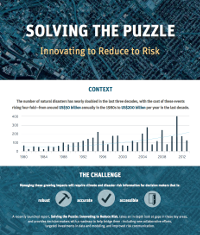 The Global Facility for Disaster Reduction and Recovery (GFDRR) has released the report Solving the Puzzle, Innovating to Reduce Risk. The report provides a community perspective on priorities for future collaboration and investment in the development and use of disaster risk information for developing countries. The focus is on high-impact activities that will promote the creation and use of risk-related data, catastrophe risk models, and platforms, and that will improve and facilitate the understanding and communication of risk assessment results.
The report features a chapter by ImageCat's Executive Vice president Charles Huyck and a reference to ImageCat's exposure management platform Inhance®. In his chapter, titled The Importance of Consistent and Global Open Data (pg. 81), Charles examines the role of global exposure data in insuring emerging markets in developing countries. The topic is pertinent now, as organizations and governments begin to recognize the importance of insurance penetration in developing countries to mitigating the tremendous setbacks that follow natural disasters. At the same time, the insurance industry is actively seeking ways to expand into these very emerging insurance markets, expecting them to be the primary source of growth in the coming decades.
ImageCat's data analysis and validation platform Inhance® is also recognized in the report as a key risk platform available to the global risk management community (pg. 12).
The report was compiled by the Global Facility for Disaster Reduction and Recovery (GFDRR) on behalf of the UK Department for International Development (DFID), who have also partnered to catalyze implementation of the report's findings. More than 100 organizations across the user community, academia, NGOs and government have contributed to this initiative.
Solving the Puzzle, Innovating to Reduce Risk can be read at GFDRR's website here: https://www.gfdrr.org/solving-the-puzzle-report